Toys for disabled children at Christmas: a lesson from history
Credit:
©casfotoarda / Adobe Stock
The original article used people-first language, however, this magazine also recognizes that many people with disability embrace identity-first language, which positions disability as an identity category. For this reason, we have also used some identity-first language in this article.
Toys for disabled children at Christmas: a lesson from history
The lead up to Christmas is historically fraught with tension. The pressure to get it right – particularly for the children in your life – can be immense.
When buying Christmas gifts for disabled children, it becomes significantly harder to find toys that are both usable and respectful.
Toys designed specifically for disabled children, catalogs of suitable mainstream toys, and calls to increase the disability diversity of toys have gained attention in recent years.
Increasingly, disability is recognized as a complex mix of both social and biological forces. People with disabilities are disabled by both the impacts of impairments and those limitations created by a disabling society.
A brief history of disability toys
The history of disability toys – that is, both toys designed for use by disabled children, and toys that depict disability – reflects the changing treatment of the disabled.
The early history of disability toys in the 20th century was entirely medicalized while shifting concepts of disability social justice can be seen in later toys.
Historically, and continuing today, toys have been used to explain medical procedures to children with disabilities. During the polio epidemic between the 1930s and 50s toys with calipers and iron lungs were used in hospitals to teach children about the disease.
Then, in the 1960s, the most un/popular disability toy was the Mr Magoo Toy Car which Everybody: An Artifact History of America argues was integral in galvanizing disability rights protests. As a number of disabled war veterans joined the disability rights movements, both GI Joe and Ideal Toys released disabled hyper-masculine action figures in the 1970s.
"One of the first disability rights protests focused on the cartoon character Mr. Magoo. Magoo was funny because of his poor vision, which resulted in mistakes and calamities that ridiculed and satirized people who were blind or had low vision." Smithsonian
This decade also saw moves to de-institutionalize children with disabilities prompting families to consider the importance of toys and play for children with disabilities.
But when Mattel released Hal's Pals, a series of Cabbage Patch style dolls with disabilities during the 1980s, toy-industry analysts predicted the dolls would not have longevity because children with disabilities "felt different" and would not like to see dolls like themselves in the mainstream market.
A number of dolls designed to look like they have Down's Syndrome have received similar negative feedback.
Mattel's 1990s special releases Share a Smile Becky and American Sign Language teacher dolls have been both criticised and applauded.
Where to find ideas for Christmas toys for disabled children?
With digitally literate parents increasingly searching online for resources for their children with disabilities, a number of toys designed specifically for children with disabilities are gaining attention through internet marketing.
The website Wonderbaby focuses on providing information and resources for parents of children with disabilities. They have compiled a list of toys developed specifically to aid the development of braille literacy:
Sighted children play with alphabet blocks or simple word puzzles when they are young to help develop a foundation for literacy, and blind children have the same opportunities with toys in braille.
The website lists braille puzzles, blocks, and other toys specifically designed for children with vision impairments.
It also includes a list of toys suitable for children with various sensory impairments: toys that vibrate, light up, make noise and have interesting textures.
A 2005 book, Toys, Games, and Media include a chapter that argues that toys and play offer important opportunities for children with disabilities to develop values and abilities and feel comfortable in their environments.
They acknowledge both toys created specifically for children with disabilities and that children with disabilities use commercially available toys.
Mainstream toys for disabled children
In her 1995 PhD thesis disability media scholar Beth Haller noted that following the introduction of disability legislation, people with disabilities became recognized as an untapped market.
During this period Toys''R''Us introduced their Toy Guide for Differently-Abled Kids. Now an app, the guide compiles suitable mainstream toys for children with a variety of impairments.
Similar compilations can be found on dedicated disability toy sites and parenting forums.
While including the same toys in the "for boys" and "for girls" sections of Toy catalogs have been criticized for limiting gender diversity, these disability toy catalogs open up new opportunities. Searchable functions allow individualized compilations of appropriate toys according to skills and abilities.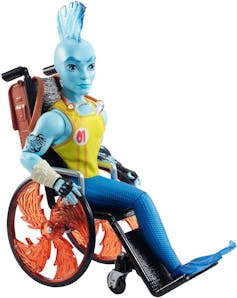 Increasing Disability Representation
In 2015 I wrote about #toylikeme, an online campaign to increase disability diversity in the toybox.
The campaign has amassed 29,000 followers in 45 countries since April and prompted Playmobil and Makies to introduce disability toys.
In the meantime, Mattel's Monster High features a number of characters who exhibit disability traits in a celebration of difference. Finnegan Wake is a wheelchair using mermaid while Ghoulia Yelps has been recognised as demonstrating characteristics of autism.
In an example of incidentalist representations of disability, Orchid Toys Giant Road Jigsaw features a number of characters with disabilities.
Disability diversity in the toybox includes making specialized toys available, matching appropriate mainstream toys with children with disabilities and increasing the visibility of disability in the toy box.
Article by
The Conversation
The Conversation is a network of not-for-profit media outlets that publish news stories written by academics and researchers.